According to reports by Vanguard News; The Queen Elizabeth II has commenced with a lie in State at Westminster Abbey as mourners seated for th State burial.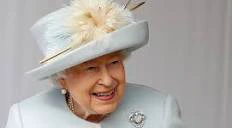 Recall that the longest serving British monarch, Queen Elizabeth, died on Thursday 8 September 2022, at the age of 96, after serving for 70 years.
The Queen will be laid to rest, and will eventually be reunited with parents, sister and her husband the late Duke of Edinburgh, in her final resting place at Windsor Castle.
A committal ceremony for the Queen will take place at the St George's Chapel, following her funeral at Westminster Abbey.
The Queen is expected to be buried with few ceremonial items, they have been on show with her coffin as she lies in State for four days in Westminster Hall.
The imperial State Crown has been placed on the Queen's coffin, on top of the Royal Standard flag, along with a White floral wreath which featured White Roses, White dahlias and foliage, with pine from the gardens at Balmoral.