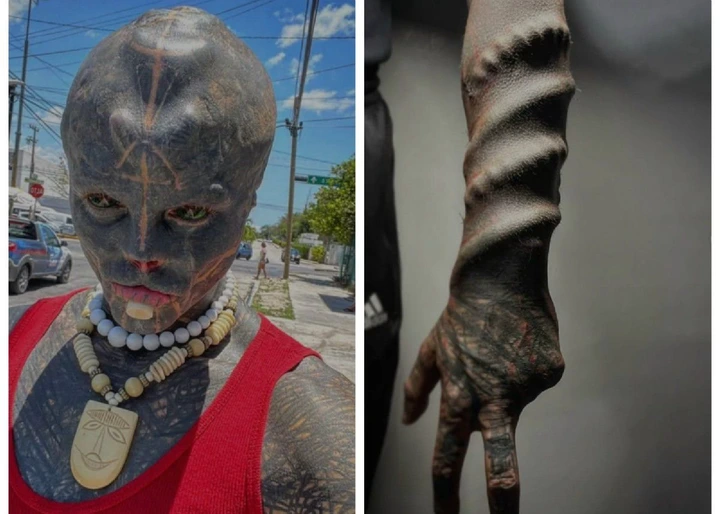 A man who has spent years and lots of money transforming himself into a "black alien," is planning to do the extreme when he gets his penis cut in half.
Anthony Loffredo, who has garnered over one million followers on Instagram due to his extreme body modifications, has already had his entire body tattooed black — including his eyeballs.
SNAKE-LIKE TONGUE, CLAW HANDS, TWO PENISES
According to the Daily Star, the 33-year-old Frenchman who calls himself "a project," has also had multiple implants inserted under his skin to enhance his extra-terrestrial look. Other procedures include having his tongue surgically snipped to appear snake-like and removing his nose to leave a gaping hole in the middle of his face.
And if you're wondering about his fingers, Loffredo is ahead of you. He's already cut off some fingers to create what looks to be a "claw hand".
But now that he's done just about everything to achieve his "black alien" look, his followers have been asking what's next.
The outlet reports that the tattoo addict hinted that he'd be "doing something radical to his genitals," as he plans to cut his penis in two.
THE 'BLACK ALIEN' LOOK GETS EXTREME REACTIONS
However, achieving the "black alien" look comes with extreme reactions and uncomfortable stares, LADbible reports.
"I'm human. There's people who think I'm just crazy. There's people, who when they see me, shout and run and many things [sic]" he was quoted as saying.
Having said that, Loffredo explained that he goes out of his way to make people feel comfortable.
"At night when I go past people in the street, I move to the other side.
"When I cross with people, like old people, I change sides in the street. Also with kids, I'm careful. I know it can be a shock," he explained.