Okeke Nkemjika, an Ebonyi farmer, thanks God as he recounts his trauma at the hands of suspected Fulani herdsmen numbering eight.
Okeke Nkemjika is a palm plantation worker who went to his acreage on Sunday to conduct evening work when he was attacked by suspected Funlai herdsmen who demanded N30 million or they would kill him.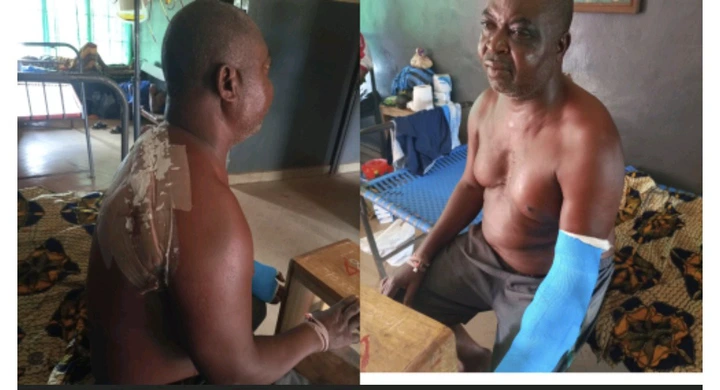 This happened between 9:30 and 10:00 a.m. on Sunday morning. Okeke Nkemjika, speaking to Sahara reporters from a hospital bed in Jideofor Hospital in Agwu, Enugu State, said he only escaped the attack by a miracle, adding that the same gang was responsible for the murder of a native four days prior to his attack.
Okeke Nkemjika told Sahara reporters that when the Fulani Herdsmen stormed his farmland, they told him to kneel down, which he did. They then threatened to kidnap him until he brought N10 million, to which he replied that he did not have that amount. They then told him to follow them to a location where they were holding their hostage, which he refused to do.
When the herdsmen with guns threatened to shoot, he told them that their pistol couldn't hit him. They used a matchete to inflict injuries on his body while attempting to kidnap him. He slumped after causing injuries on his body. They abandoned him because they couldn't take him captive while he was bleeding.
Kindly share with us your thoughts as we will be expecting your feedback on this.