2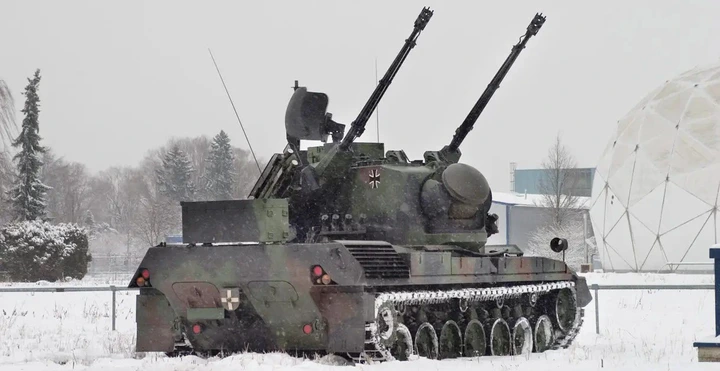 German newspaper Die Welt reported Krauss-Maffei Wegman (KMW) could deliver 50 decommissioned Gepard anti-aircraft (Flakpanzer) tanks to Ukraine. the Gepard was phased out in late 2010 and replaced by Wiesel 2 Ozelot Leichtes Flugabwehrsystem (LeFlaSys) with four FIM-92 Stinger or LFK NG missile launchers. The company have around 50 models of the Gepard type in its own stock, which could be made operational again relatively quickly. But decision lies with the German federal government. To many political observers in the United States and some eastern European countries, cracks seem to have appeared in Germany's image as a reliable ally. Earlier in the day, Germany will supply Ukraine 1,000 anti-tank weapons and 500 anti-aircraft Stinger missiles. Berlin ruled out supplying arms to Kyiv, and also turned down requests from allies to send their German-made weapons to the country.
The Flugabwehrkanonenpanzer Gepard (the Flakpanzer Gepard) is an all-weather-capable German self-propelled anti-aircraft gun (SPAAG). It was developed in the 1960s and fielded in the 1970s, and has been upgraded several times with the latest electronics. It constituted a cornerstone of the air defence of the German Army (Bundeswehr) and a number of other NATO countries. A variant with the MANTIS gun system and LFK NG missiles, based on the GTK Boxer, was also considered. Since the eighties, Stinger teams have been accompanying the Gepard units to take advantage of their long-range scanning capacity. To combine this capacity in a single unit, a missile system upgrade that mounts the FIM-92 Stinger MANPADS (in twin packs) to the autocannons was developed. The system was tested by the German Bundeswehr but not bought due to budget restrictions and the fielding of the Ozelot Light Flak System (LeFlaSys).

The vehicle is based on the hull of the Leopard 1 tank with a large fully rotating turret carrying the armament—a pair of 35 mm Oerlikon KDA autocannons and the two radar dishes—a general search radar at the rear of the turret and the tracking radar, and a laser rangefinder, at the front between the guns. Each gun has a firing rate of 550 rounds/min, which gives a continuous fire time of 37 seconds before running out of ammo (with 680 rounds for both guns). The guns are 90 calibres (3.15 m (10 ft 4 in)) long, with a muzzle velocity of 1,440 m/s (4,700 ft/s) (FAPDS—Frangible Armour Piercing Discarding Sabot rounds), giving an effective range of 5,500 m. The KDA autocannon can take two different ammunition types; the usual loading is a mix of 320 AA and 20 AP rounds per gun. Combined rate of fire is 1,100 rounds/min.
Krauss-Maffei Wegmann GmbH & Co. KG (KMW) is a defence company based in Munich, Germany. The company produces various types of equipment as well as rail locomotives, tanks, self-propelled artillery, and other armoured vehicles. Krauss-Maffei Wegmann should not be confused with a separate present-day company, KraussMaffei Group, which is also descended from the original Krauss-Maffei merger. In 2015, Krauss-Maffei Wegmann merged with the French state-owned defence company Nexter Systems. KMW is now a subsidiary of a newly formed holding company, 50% of which are in turn controlled by the former owners of the German company. Military product examples include: Leopard 1/2 main battle tank, PzH 2000 SPH, Gepard SPAAG, Dingo 1/2, FLW 100/200 remote weapon stations, Grizzly, GTK Boxer, MARS tracked multiple rocket launcher, Artillery Gun Module (AGM), Mungo ESK, Leguan armoured bridge layer, Puma infantry fighting vehicle, Fennek and F2 wheeled armoured vehicle.