As the war between Russia and Ukraine heats up, several Russian soldiers have been arrested and killed in Ukraine. The President of Ukraine received information that over 100,000 Russian troops have invaded their territory.
Due to the invasion, the civilians in Ukraine have started joining the military to fight back and defend their country. Even the Ex President of Ukraine has joined in the fight.
(Photo Credit: Twitter @IAPonomarenko)
Unfortunately, two Russian soldiers were reported to have been arrested by the Ukraine Police officers in Shevchenkove, Kharkiv oblast, when they came to a local Ukraine police station to request for fuel as their vehicle ran out of gas.
According to the post shared by the Defense reporter in Kyiv Independent, I.D cards of the Russian soldiers were recovered from them upon arrest.
To my understanding, the Russian soldiers knew that they were heading to a police station, and they could get arrested. But why did they do that?
I see it as a means for them to surrender instead of getting killed in the battlefield. Some hours ago, a Russian soldier was caught by the Ukrainians and when he was interrogated, he said the government forced him to fight.
Sadly, some of these Russian soldiers are not willing to go to war with the Ukrainians. They are being forced by the government. I feel this is the same situation with the two Russian soldiers that were arrested.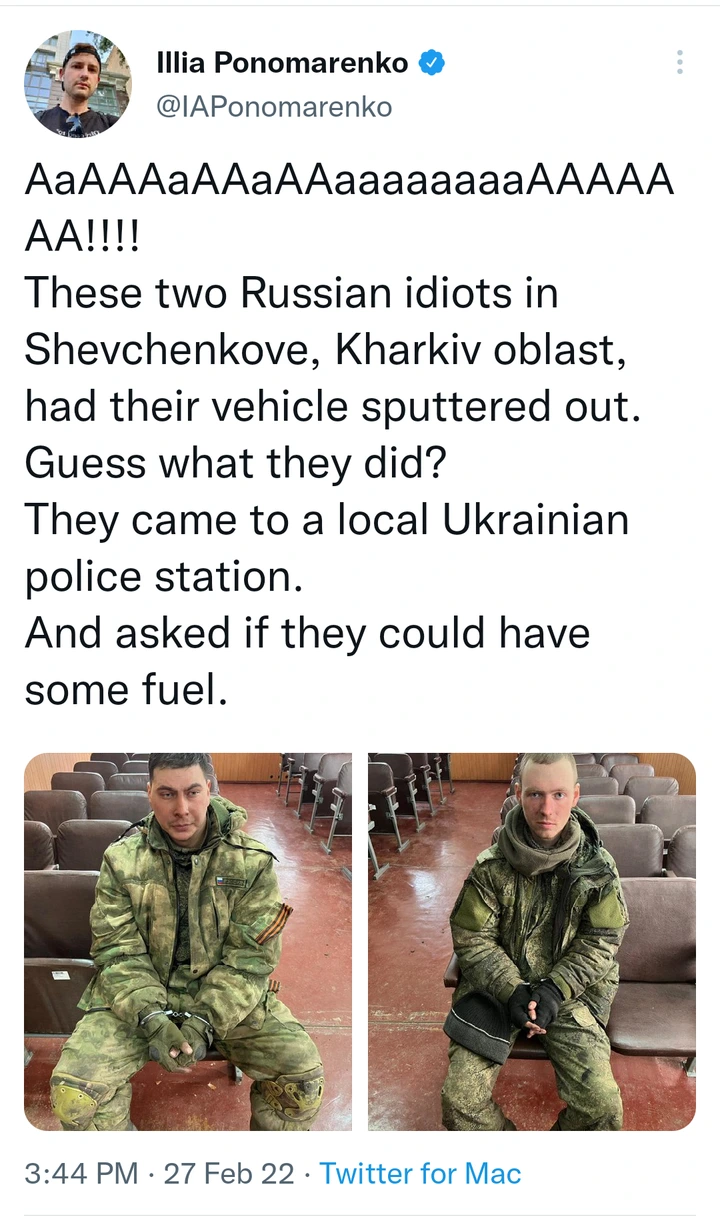 (Photo Credit: Twitter @IAPonomarenko)
No wise soldier would go to the territory of their enemy to request for help. I guess they went there to surrender. What do you think?